En la Taberna Alabanda, calle de Miguel Servet nº 15.
Los domingos por la mañana.
A partir de las 14 h.
Todos los conciertos irán seguidos de una jam session. Aquí tienes un listado de los CONCIERTOS-JAMS ANTERIORES donde encontrarás videos y fotos de lo que allí pasó.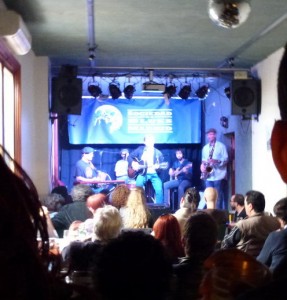 NOVIEMBRE, 2012.
-11 de noviembre,  Bloodhound
-4 de noviembre, Jose Luïs Pardo Blues Band.
OCTUBRE, 2012.
-28 de octubre,  Mara & The Blue Storm.
-21 de octubre, Rambling Roots.
-14 de octubre.
Cotton Roots
-7 de Octubre, Rafa Sideburns Band.
SEPTIEMBRE, 2012
-30 de septiembre. Downtown Alligators
-23 de septiembre. Crazy Cabin.
-16 de septiembre. Los Jullianes.
-9 de septiembre. Steve Zee, Javier Fernández y Armando Marcé
JULIO, 2012.
-1 de julio. Flaco Barral Trío.
JUNIO, 2012.
-3 de junio. Bakin' Blues Band.
–10 de junio. Felix Slim.
-17 de junio. Station Road
-24 de junio. Alex Caporuscio.

MAYO de 2012
-6 de mayo. The Tremendous.
-13 de mayo. Osi Martínez y amigos.
-20 de mayo. The Suitcase Brothers.
-27 de mayo. Mississippi Alligators

ABRIL de 2012
-1 de Abril. The Forty Nighters.
-8 de Abril. Edu Manazas & Whiskey Tren.
-15 de Abril. The Blind Lemons.
-22 de Abril. 44 Dealers.

-29 de Abril. Guitar No So Slim

MARZO de 2012.
El 4 de marzo FEDE AGUADOy su banda

El 11 de marzo The California Honeydrops.
El 18 de marzo  MARCOS COLL acompañado del guitarrista mexicano EMILIANO JUAREZ.
El 25 de marzo, CELINA YEBRA.

Rafa Sideburns Band